Events in February and March 2013
Young People's Night - Usually Fourth Friday of Month
::: Friday, 22 February 2013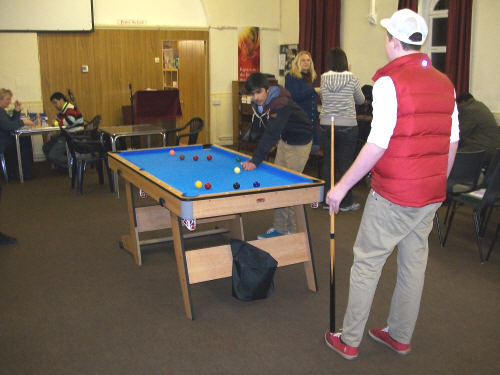 The second stage of re-starting our Youth nights following the successful evening meal at the Aroma Restaurant back in November 2012, is, in 2013, to meet once a month on a Friday evening. Usually this will be on the fourth Friday of the month, but in March, will be on the fifth Friday (29 March).
Wish you had been there? Send us your e-mail address and we will send you our regular bulletin to keep you informed of events like this.
Hannah Mary Sings at Gun Hill Breakfast
::: Saturday, 23 March 2013
The church was full on Saturday 23 March, not only to enjoy a substantial continental breakfast, but also to listen to Hannah Mary, a talented, local singer-songwriter, as she shared some of her songs and the story behind them. We were truly blessed. Pastor Derrick Wilks, from Leigh-on-Sea Elim Church, gave a brief but clear and challenging presentation of the Gospel and offering the opportunity for any present to accept Jesus Christ as their Saviour and Lord.