Missions Work in Malawi
We supported Jackie Griffiths when she was a missionary in Haiti and in 2014, we agreed to renew our support as she went back to Malawi, to Hope Village, Chikwawa.
In 2014 we sent £738.07: in 2015 £1,926.50: in 2016 £1,557.83
So far in 2017 we have sent £851.31.
Jackie writes (July 2014):

Elim Missions Department recently informed me that your church wish to support me in my forthcoming return to Malawi. I would be grateful if you could please pass on my sincere thanks to the leaders and church members alike. I really do appreciate your interest and am humbled by people's willingness to support me in this.
Jackie's Latest Newsletter October 2017
Dear Friends,
Greetings from Malawi!
I have been wanting to write for a little while to let you know of the latest developments but things were not confirmed until last weekend. I am so sorry that so many of you had to find out through a facebook post regarding my departure from Hope Village. I had been deliberately silent because I wanted to inform you first as soon as things were confirmed. But the big news is that with a very sad and heavy heart I finished my term at Hope Village on Tuesday 3 October. I have now moved up to Blantyre to work, once again, with Elim Malawi. Elim Malawi is currently in a period of transition as the General Superintendent is retiring in February 2018 and the new General Superintendent is being voted in at the beginning of December.
Over the last number of months I have had the opportunity to be involved with Elim Malawi more as I have travelled with the ladies to join them in teaching ladies in the various regions of Chikwawa. Also, at the end of August the first national ladies conference took place in Blantyre over a weekend with 400 women in attendance.
I have had the best time over the past three years working at Hope Village. I have loved all aspects of the work Iíve been involved in, including the Baby Feeding Programme where, thanks to so many of my supporters who have given so generously, many babies have had a chance of life and been given the formula milk to enable them to not only live but thrive. I have loved travelling out to their homes, sometimes in far away villages, to carry out assessments.
The Preschool had a special place in my heart and it is so encouraging to see the children who have gone through preschool achieve so much better than those who did not attend. It really does serve to give them a good head start.
When I returned after my furlough in May, I started a Kidz Klub which has been great fun as well as teaching bible stories with applicatory lessons. I have been so impressed at how well they recite the memory verses each week and even remember verses that were learned some time back.
Another group of people I love are our guardians. Many of them are caring for children who have lost parents and come each week to receive food and also receive help with school materials and uniforms. Some of these ladies are getting on in years and have had tough lives but their commitment and love for those in their care is inspirational.
The most difficult goodbye was to my little family of Khonde Kids. I loved the way they would come and hang out at my home and make my home their home. We did so many things together .... watch dvds, play games, enjoy breakfast or lunch together, bake cakes, celebrate birthdays, they would also want to help wash my dishes and sweep and wash the floor. They were great at teaching me Chichewa and I was able to teach them some English. I loved the fact that when I would return after a day shopping in Blantyre they would decorate my khonde with flowers welcoming me home. I simply loved the noise and buzz of having about 20 children hanging out with me. To say I miss them is a big understatement!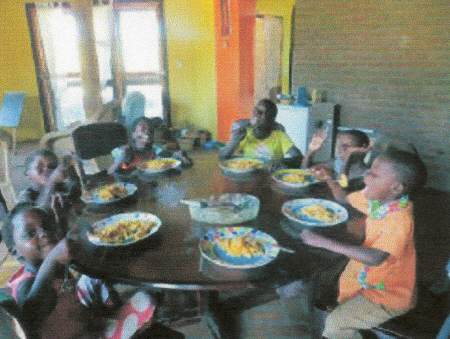 Living in Blantyre is a very different scenario. One good thing is that the temperature is much more bearable. But I miss walking around the local villages and stopping to chat with people and being invited to join them in whatever they were eating. Being part of village life was very important to me whether it was attending a funeral, an initiation ceremony, a wedding, or being part of the local church. That is a lot more difficult in the city where people live within high walls and fences, resulting in the feeling of loneliness to be much greater.
But I count it a huge privilege to be invited to serve Elim Malawi once again and I look forward to all that is in store in the future. Elim Malawi has about 400 churches covering the central and southern regions which are divided into 10 regions, each with a regional leader. It has six schools and four orphanages.
I never take for granted the support, love and encouragement from all my partners. I appreciate each one of you and without your support it would not be possible to serve this amazing country of Malawi, known as the Warm Heart of Africa.
With much love,
Jackie x