Back to Testimony Page
Peter West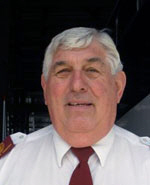 It Is Time
from Peter West
Going Back to When I Was 10 Years Old
The then pastor of the Church at Gun Hill was Pastor John Lewis. I remember singing the chorus "Heavenly Sunshine" which was sung by the daughter of the Pastor. Being so small, she had to stand on a chair to sing.
My mother and father were part of the Wickford Assemblies of God Church, but we lived in Pitsea and they were friends of Pastor John Lewis. I was saved in Wickford Sunday School, kneeling and crying near the lady playing the piano. I was about 91/2 years old. Later, I was baptised in the Church at Gun Hill and filled with the Holy Spirit. I also attended meetings at Gun Hill and remember the Harvest Festival service and having bread and cheese. Also, they held open-air meetings at Pitsea. My grandmother, when she stayed with us, would also come.
On leaving for Australia in 1956, Pastor Lewis gave me a small zip Bible which I still have. My family has always been associated with the Assemblies of God and other Pentecostal groups. My father had a job with the A.o.G Queensland for one year and then we returned to Wickford A.o.G. for three years. Then emigrated to South Australia where we were associated with pioneering several assemblies. I was youth leader assisting at two assemblies and that is where I met my future wife. We ministered together after marriage and then settled in Queensland, helping to pioneer assemblies.
Paul, my son, and I both became members of the I.C.B.M (International Charismatic Bible Ministries) run by the Oral Roberts family in the Mabee Centre - a three day teaching and evangelistic conference with delegates, Benny Hinn, Marilyn Hickey and Benson Idahosa. We were prayed for by Brother Oral Roberts. he said that we would do great things for the Lord, and we have seen the Lord moving in salvation, healings, with signs and wonders in Australia. Also in Germany, India, Pakistan, Fiji and the U.K. The Lord has directed me several times to travel around the world, including the Isle of Man (which you can read about in the book "Banking on God" by Pieter van Rooyen - a copy of which has been donated to the Church at Gun Hill for its members to read)
The Lord has always been our Lord and Director. I believe we can all hear the Lord's voice today - as other great men and women of God. Remember :: "With Jesus everything is going to be alright"
Peter West and Family - not angels but sent ones.
Back to Testimony Page

The Church at Gun Hill is an Elim Pentecostal Church
Elim Foursquare Gospel Alliance :: Registered Charity 251549 (England & Wales)