Back to Testimony Page
Peggy Byrne
Came to Jesus at a Billy Graham Crusade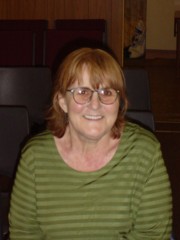 Hi! I come from Donegal in Ireland. I am one of eight. My family life was a sheltered one. I was brought up a strict Catholic, going to church every Sunday and confession regularly. I came to England when I was nineteen and got married shortly after.
After having six children I found my marriage on the rocks. My husband was violent towards me when he had a drink, which was most weekends. In the end we divorced.
The first few years I sat indoors and looked after my children. Eventually I started going to the pubs with friends. I was lonely and unloved, yet I never did find love. After all, what man would want a woman with six little ones?
Years after (I was working in a home for the elderly at the time), ladies I worked with were talking about an American preacher who was coming to West Ham Stadium. I wondered what all the fuss was about this Billy Graham, so I went along to see for myself, taking my friend Sue with me. Billy Graham preached on the forgiveness of sin and the death of Jesus on the cross. He asked us to come forward and surrender our lives to Jesus.
I knew I needed forgiveness, I felt a wicked sinner, so I went forward. I no longer need the pubs and men. I have found the love of God in Jesus. Thanks to Billy Grahamís message and the grace of God, I am born again.*
God bless you all.
Peggy.
*John 3:3 Jesus answered and said unto him (Nicodemus), Verily, verily, I say unto thee, Except a man be born again, he cannot see the kingdom of God.
Back to Testimony Page

The Church at Gun Hill is an Elim Pentecostal Church
Elim Foursquare Gospel Alliance :: Registered Charity 251549 (England & Wales)