Back to Testimony Page
Norman Freeman
My Story from India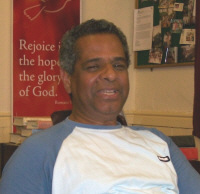 I hail from India and whilst a little lad, I recall travelling with my mother to several places as she sought 'peace of mind'. Mother visited Seventh Day Adventist, Methodist and various other churches but she did not find her answer.
Around this time I was sent to boarding school in the Darjeeling area, better known for its tea. I was about 500 miles away from home and up in the hills where the air was pure and fresh. On my return home at the end of term, I was to find that she had joined a fellowship where she found what she had been searching for, 'a body of believers' who knew about the 'deeper life with the Lord Jesus Christ.' At that tender age I did not take this seriously nor did I give it much thought. Back in school and perhaps a year or two later during an evening service at the cottage I was in, along with another 30 boys or so, I recall putting my hand up to accept the Lord Jesus Christ into my heart as my personal Saviour when the appeal was made.
Leaving school shortly after my 16th birthday, I went straight into the Armed Forces voluntarily and served in the Navy for the next 11 years. After my initial training of 9 months and a further 9 months period specialising in the Communication Branch of the Service, I was drafted to service on board a ship. I was transferred to a shore establishment in Calcutta a year later. I found my way to the 'Assemblies of God' Church and attended there regularly where I met and made many friends who were born again. Calcutta being so situated, we had many visiting preachers and evangelists who shared with us their experiences in the work of the Lord as well as His love and compassion for all mankind. It was during these visits by an evangelist from New Zealand and at an Open-Air Crusade that I made a firm commitment and re-dedicated my life to the Lord Jesus Christ and shortly after followed His example and was baptised in water.
After a two year stay in Calcutta, I was again sent back to sea aboard a ship and continued my life with the Lord and fellowship whenever possible at any port of call. I might add that for all of my naval career, wherever I served and amongst thousands of men, I was often the only born again believer among them. Life at times was very hard what with all manner of ungodliness around me. During my privilige leave I would return to beloved Calcutta where I always rejoiced along with fellow Christians. Life in the Navy did not permit one to remain for more than two years at any one ship or shore establishment. I was often on the move and returned to Calcutta on a posting where I now got married and a year later our son was born. Not too long after I left the Navy.
My wife and I emigrated to England in June 1975, and shortly after arriving here, our daughter was born. I was at first very disappointed at not being able to find fellow believers and to worship. Being new in the country, the feeling was awful and on many occasions I felt like taking the first flight back. We moved to Basildon from Billericay and began worshipping at Church Road and then later my family and I joined the fellowship here at Gun Hill.
The Lord Jesus Christ is very real to me and I realise that without Him I would be "of all men most miserable." I have never for a moment regretted that day in my life when I put my trust in God. Even in the past, when for six months I had no permanent job, the Lord in His love and mercy provided at all times. I was temporarily employed and then finally commenced full-time work again. Praise His Name! Through the years He has never left me nor forsaken me. He is always there and is someone I would recommend to you. "Draw nigh to Him and He will draw nigh to you."
In conclusion I leave you with this promise from the Bible found in Proverbs chapter 3 and verses 5 & 6.
"Trust in the Lord with all your heart and lean not unto your own understanding. In all your ways acknowledge Him and He shall direct your paths."
Back to Testimony Page

The Church at Gun Hill is an Elim Pentecostal Church
Elim Foursquare Gospel Alliance :: Registered Charity 251549 (England & Wales)