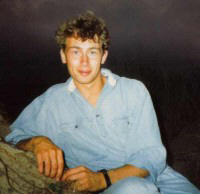 Saturday, 17th August 1991, looked as though it would be the same as any other Summer Saturday. In the morning, I put the finishing touches to the decorating of my youngest daughter's bedroom. I then cycled the four miles to our church and back to spend a short time in prayer. After lunch, my wife and I went shopping. Life was going on much the same as usual, with so many things to do and so much to enjoy.
Then, at about six-o-clock, came the stunning blow - a telephone call to advise us that our 21 year old son, Daniel, who was on holiday in France with a Christian group, had drowned earlier that afternoon. How could we believe such a fine Christian young man, a son to be proud of, was dead? How? Why? If only….! The thoughts and questions raced through our minds. Even now the situation is difficult to grasp.
When Daniel was buried nearly three weeks later, the church was packed to hear the reassuring testimony that here was a young man who, although he did not expect die, was prepared for death. He knew where he was going. (Phil. 1:21-23 ) As a youngster, he had committed his life to the Lord Jesus Christ. (Matt 16:24) At 17 years of age he declared that publicly by being baptised. (Mark 16:16)
As I was later sorting out his affairs, I found a letter which he had written which contained the following testimony:
"I write to you pleased to have a testimony that the Lord Jesus Christ has come into my life and forgiven my sins. (Eph. 1:7) This has saved me from everlasting destruction and separation from Him in hell. (2 Thes. 1:8-9 ) I thank God for the obedience of His Son Jesus who willingly was mocked and persecuted and then crucified for my sins. God so loved me and He so loved you that He sent His Son to die for our sins in our place. (John 3:16 ) Praise the Lord that Jesus, on the third day rose again (Luke 24 :46 -47) and later ascended in heaven. (Acts 1:9) One day I shall see Him in Glory. (John 17:24 )

"There was nothing I could have done to earn this great gift of salvation. (Titus 3:5) It was only through humbling myself to the place of repentance that Jesus, through His grace and mercy, could forgive me. (1 John 1:9) The Lord has regenerated me and made me a new person in Him. (2 Cor. 5:17) In other words, I have been born again by His Spirit's power." (John 3:3-8)
>

Although sad at being separated from one we loved so much, my wife and I have found great comfort from the knowledge and assurance that our Daniel is with the Lord and that one day, when we all see Jesus, we shall be reunited. This has been the Christian faith and certain hope for nearly two thousand years - not a dead religion of form and ceremony but a living relationship with a living Saviour, the Lord Jesus Christ.

Maybe you too are going through all the usual routines of day-to-day living, just as I was on that Saturday in August; just as my son was in France. But are you ready for death? Do you know where you will go then? Perhaps you have experienced a devastating situation which is crushing you more than you can bear. Let me say to you that in the Lord Jesus Christ there is salvation for YOU.

Graham and Penny Jones

(The brackets give bible references)

Back to Testimony Page





The Church at Gun Hill is an Elim Pentecostal Church
Elim Foursquare Gospel Alliance :: Registered Charity 251549 (England & Wales)
Daniel
Along the Bowers Gifford footpaths worn,
And through the fields where once we often walked,
To old St. Margaret's Church,
Again I pass your place, my heart still torn;
I hear the thousand things of which we talked
In leaves of rustling birch –
Your place, where now you lie at peaceful rest,
Where once we played in distant golden days
Now gone; but here you stay.
"When shall we go to heaven?" was your request,
When innocence was yours in all your ways.
"One day, my son, one day."


And thirteen years of sorrow have now passed
Since, on your own, that journey you did take
To yonder realms unseen.
Time has not healed the aching wounds at last,
Which ripped apart our very soul and break
Us with what might have been.
How often have I seen your face in crowds,
Or heard your footsteps coming through the gate,
Or caught, in dreams, a sight
Of your kind face – but then the vision clouds;
Great anguish grips my mind and then I hate
This empty, endless night.


Last week, I visited your place and read,
On slowly sloping, lichen-covered stone,
"I am the Resurrection and the Life,
He that believes in me, though he were dead,
Yet shall he live." This is our hope alone,
That He, upon the cross, endured the strife
To win the cruel conflict over death,
And break the bands of our mortality.
We sorrow not as those whose hope is vain.
Thus life goes on as God allows us breath;
Renewed, we trust, in safe simplicity,
The old refrain, "Until we meet again!"


Graham Jones July 2004