Back to Testimony Page
Bob Mundy

Bob's Testimony
:: Listen to Bob's testimony in word and song as given at The Church at Gun Hill on 11 May 2014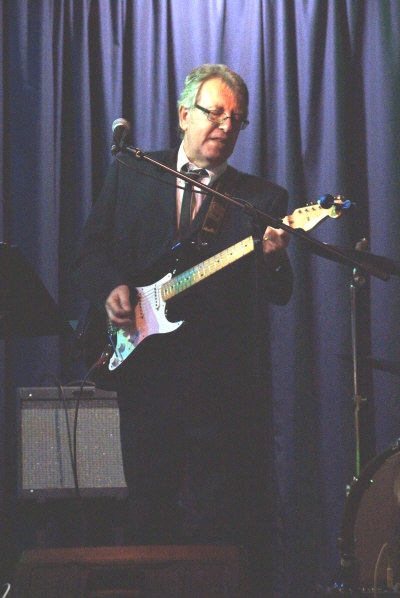 I was 14 years old when I first remember The Lord speaking to me. It was in School Assembly, we were singing 'Onward Christian Soldiers'. He told me that He was going to make me into one of His Soldiers. Although I remember this exciting me at the time, I still had my eyes on becoming a famous pop star like The Shadows or The Beatles. I was brought up in Bethnal Green, East London, and determined at an early age to follow my heroes The Ventures and The Shadows. My Dad took me to buy my first guitar sometime around 1961, I was 11 years old. I think the Guitar was bought to stop me begging for a drum kit to replace the biscuit tins and knitting needles that I had resorted to in order to make some kind of noise. Along came The Beatles, from then on I really could not concentrate seriously on anything other than the ambition to make my fortune in the music industry. I can recall praying to God at times, especially while watching my Dad suffering with Cancer. I remember asking God to take him instead of letting him suffer. But when my Dad did die, I decided that no God could allow such suffering so therefore He did not exist. The space that God wanted in my life had already been filled with my love and worship of the musician's lifestyle. Drugs, particularly LSD were a big part of this lifestyle. I became so addicted to LSD that I found it difficult to perform or record without being under the influence of the drug. I really believed that it enhanced my performance. How wrong I was, I still have some of those recordings today, they are awful compared to other recordings made prior to this addiction. By my early 20's I thought that I was well on the way to stardom with a record released reaching number 70 in the charts. This was a bitter pill. Prior to our recording contract with DJM records, we had been a very busy band working virtually every night and on Sunday lunchtimes. But now our record company said that we could only work where and when they wanted us to, which meant promotional work on Radio Stations for which there was no pay. One of these shows meant us travelling up to Manchester to appear on Piccadilly Radio, and to cover our expenses, DJM had booked us to play in a local nightclub on the same evening of the day that we recorded the Radio show. On our arrival at the nightclub, we were told that it had gone out of business the previous day. Even though I had decided that God did not exist, I was very aware of His sense of humour that day.
Erich Von Daniken wanted us all to believe that God was an astronaut, I liked the idea of that, so kind of saw myself as one of his disciples telling my views to anyone who would listen. I really did believe that I had a message for the world ! Due to being pretty broke, with a wife and rented house to support, something had to be done. Yes, I'm married by now. Chris and I got married on 4th April 1971 at Southend Registry Office. My band of the day played at our reception, it was our first dress rehearsal. So like I said, we were broke, so I went looking for a job just to fill the gap while we were recording our next single and album. Incredibly, having passed my driving test just a few months earlier, I was employed by Hickleys Electrical in Pitsea, as an electrician, with a company van! The work was fairly basic, changing light bulbs for Basildon Development Corporation at their many blocks of flats, and street lighting. This was fortunate as I was not qualified as an electrician. I was to take over from a chap who was shortly to retire, Arthur Crisp. To this day, he is still the happiest, most joyful and peaceful man that I have ever met. I asked Arthur "What have you got to be so happy about ?" He told me that he had given his life to Jesus, and that every day held something new for him. I told Arthur about my views, God was an astronaut. Arthur never once argued with me, he just kept telling me how much he loved his Lord, and that this filled him with joy. Inside, I questioned how Arthur, at 65, could be so much more happy and at peace than I was at 23. We were out working on a very rainy day, the next job we had to do was repair a roadside light on an entry road to an underground car park. Arthur asked if I would do this, I suggested that he might like to take care of it himself, so off he went with the ladder into the rain. There was no radio in the works van, so out of boredom I picked up one of Arthur's Christian newspapers. There was an article on the back page that caught my attention. The headline read "THE HERALD OF HIS COMING". It told of the second coming of Jesus (Revelation Chapter 1 Verse 7). It read just like a newspaper report, and as I was reading it, Jesus revealed himself to me, He is alive ! It was as though he was seated next to me in the works van, showing me what was to happen when He returns to redeem His followers, both those alive and those who have already died. I could hardly wait to get hold of a bible and read The Book of Revelation for myself. I told Arthur as soon as he returned, drenched of course. He kept saying "Praise The Lord", and "Hallelujah Brother". Later he told me that I was the first that he had personally seen come to the Lord after many years of being a Christian himself.

Still though, I could not commit to The Lord, as I was scared of losing the love of my life, Music.
Being a fan of the Horror Movie genre, I went to see "The Exorcist" which had just been released. Again The Lord revealed himself to me, and he allowed Satan to reveal himself, not as an Angel of Light, but as the wicked destroyer of peace that he really is. The Lord was showing me that He was already Victorious over Satan and that I could share in that Victory if I asked for Jesus to come into my life and save me. At last, I turned to Jesus, The Living Son of God Who died on the cross at Calvary for my sins, and He rose again on the third day and sits at the right hand of God. But that is just the beginning, Jesus wants to be at the centre of my life now. It quickly became very clear that music and LSD of course would have to go. Quitting my band was surprisingly easy, letting go of my addiction to the lifestyle and drugs was much more difficult. It was nearly two years after coming to know The Lord before I got free of drugs. LSD creates a chemical reaction in the brain where everything becomes a bit unreal. The last time I took it, even God the Father seemed unreal. This was too much for me. I could no longer live without My Heavenly Father and His Son and Holy Spirit in my life. So that was the end of my addiction to LSD. Music became less and less important to me as Our Father replaced it with the adventure of following and being obedient to him. He has taken me into situations and places that I never dreamed of, and still continues to do so.
And music? He brought that back into my life in 2005, but now it is not something which I serve or worship, it is a real blessing to me now, and I am told to others also. But if He took it away tomorrow, so be it, there must be something new that He wants to show me.
Back to Testimony Page

The Church at Gun Hill is an Elim Pentecostal Church
Elim Foursquare Gospel Alliance :: Registered Charity 251549 (England & Wales)