Back to Testimony Page
Ann Lee
Light and Life

Ann's Testimony

:: Listen to Ann's testimony as given on 17 February 2013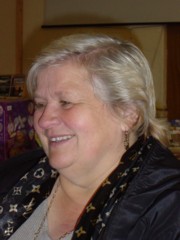 Hi, my name is Ann and I have been saved since 7th May 1992.
I came to know the Lord in a tent Mission run by 'Light and Life' - Gypsy travellers. The meetings were on the Orsett show ground. It was a Thursday evening - my daughter Lisa's 16th birthday. Lisa gave her heart to the Lord two years before and she kept asking me to go to her local meetings. I use to say "No, that's okay. You go."
Friends had been testifying about Jesus and His love all the week before. I asked some questions but thought no more about it. On the Monday my daughter was working, she wanted me to take her to the meeting. So, along we went and chatted to friends on the field. Then an announcement over the loud speaker said "Come to the tent and meet the Lord."
So I went to the tent and when I walked in it was full of people praising the Lord. I found it all interesting and the music was nice. Well, my daughter wanted to go every night (and so did I). By Wednesday, we were arriving even earlier than previous nights and I was asking questions of Jeanie, a pastor's wife. I went into the meeting that night and I felt fine. By the time I came out - I felt weak. I know now, that I was fighting against the Lord.
The next evening we arrived even earlier at the show ground. During the evening a man called Graham Jones got up and gave a testimony about his son dying in France - only 21 years old. He talked about how the Lord had strengthened him and his family. And then he played the accordion and sang a song called 'Heaven is better than this'.
Later, the sermon was given, and the Pastor called for anyone who would like to give his or her life to the Lord or who wanted prayer for healing to come forward. My Lisa and friends kept coming up to me saying "Do you want to go to the front?"
"No", I kept saying - but I kept looking around the tent seeing men and women praising the Lord unashamedly - hands in the air - men praying out loud. I had never seen a Gypsy man sing unless he had a pint (or several pints) in a pub. But these people loved Jesus and praised Him freely.
Then the Pastor said, "If the Lord is speaking to your heart tonight, come to the front!" Jeanie looked at me again, and she just walked with me to the front where I gave my life to the Lord. I cried and cried - tears of Joy. I felt so full. I had butterflies in my stomach. Then we sang some more songs of praise to the Lord. I was overawed.
Two sisters in the Lord came and sat with me and told me that when the week was over, I needed to find an evangelical church where there were born-again believers in the Lord. So I went to every meeting until the Saturday.
At that time I worked in Pitsea Council Offices and I told all the girls I worked with, how I had met with the Lord. I was amazed how I could testify to people and I gave my testimony of how I gave my heart to Jesus. But one thing bothered me. Where would I find a Church? I didn't know any locally.
The following Saturday I went shopping with my family to Pitsea and I could hear a song being sung in the Market place. It was 'My shackles are gone'. So we followed the sound of the music. And there, to my amazement, was a group of people singing to the Lord and with them was the man who was at the tent meeting, who had given his testimony and sang 'Heaven is better than this.' I sat on a wall humming along.
The children wanted to carry on shopping, so I said "You go, leave the baby with me".
When they came back to find me, I was standing with the group singing to the Lord! The Lord had found me my Church (which is not a building, but the people of God.) I still go to that church – the Church at Gun Hill.
Jesus has done so much for me I do not know how I managed without him. The Lord doesn't say it's easy to be a Christian - we still have trials. But He does say – 'come as you are - problems and all!'
He gave His life for me - a sinner. He shed His precious blood for me - and for you as well. I thank Jesus every day for His grace and Mercy.
Accept the Lord today! You have nothing to lose, but so much to gain. I trust in the Lord to guide me daily. I have a granddaughter and she is a miracle from the Lord (but that's another testimony, for another day) and I pray every day for the rest of my family and for people who know something is missing in their life.
Don't let pride or family stand in your way. Jesus is a wonderful friend. He is our Saviour and our King.
'Come unto me, all ye that labour and are heavy laden, and I will give you rest.' (Matthew 11 v 28)
Back to Testimony Page

The Church at Gun Hill is an Elim Pentecostal Church
Elim Foursquare Gospel Alliance :: Registered Charity 251549 (England & Wales)