Back to Testimony Page
Andy and Pam Clark
Christ is the Answer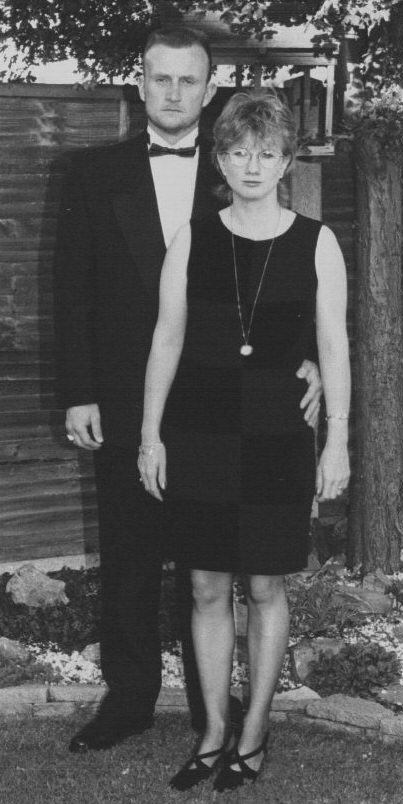 "Christ is the answer to your need."
It's a saying much used in the church of God. But these words are alien to a non-believer.
I was once someone who did not believe fully. All right, I believed that there was a heaven and a hell and in Jesus and the devil, but basically I was a decent bloke and, come my demise, I would end up in heaven. And then there was the little thing of the miracles - water into wine and the healing of the lame - that was too much to accept.
I had reached the age of twenty-two without too much hassle, annoying my parents endlessly. It was my life and I would do as I please - a normal teenager. But then there came a time when I felt the need to go to church. Which one? I did not have a clue. And what would my girlfriend say? Luckily, she encouraged me, but I left it there.
Then my mum became very ill; I got into trouble at work and nearly lost my job and was moved to another area. I then had a problem with my blood - it would not retain protein and it made me tired and irritable.
I started work in my new area and, unbeknown to me, I was working next to a 'born again' Christian. He spoke to me about God and the wonderful things that the Lord had done in his life - and then things began to make sense.
He asked me to go to his church just to see what it was like and I accepted and went the following Sunday. Eleven years later I was still there. The Lord revealed my need to me and I readily accepted him as my Lord and Saviour, believing he died for my sins. Christ revealed to me my need and he showed me the wonders of His grace and mercy and that His miracles are not hard to believe.
I thank the Lord for His guidance in every area of my life and that truly He is The answer to my every need.
Pam Clark
Christ is the Answer
I was brought up to believe I had two voices in my head. One was the devil and one was God.
"Follow what God tells you," my mum used to say. "You cannot go wrong with that one."
So, as you can see, God has always had a small place but now the Lord has all of my life as I gave my life to him in 1987.
I met Andy when I was twenty. We did all the usual things - clubs, parties, drinking etc. - the normal things a couple do. But it was after about a year, when we were sitting in my car outside Andy's house, when he said: "How do you fancy going to church?"
I was totally dumbfounded. Us go to church? But I agreed to go as that little voice was still there after all those years.
Then Andy became ill with blood problems and his mum became ill and was moved at work due to some trouble he had gotten into. While there he met a man who was a Christian and they got talking about God.
One Sunday evening late in July 1987 we both went to a small church called The Church at Gun Hill. That night will stay with me forever as the feeling in that place was tremendous. The people were so friendly. I met Andy's new friend from work and his family.
I gave my life to the LORD soon after. It was so right. There was no more searching, looking for the joy by going out partying and drinking and all the rest. I had found my joy with Jesus.
The Lord has brought me through so much. Andy and I later married and have a family. Whatever we go through we are not on our own - the Lord is with us too.
"The Lord works in mysterious ways" is a well known saying, but for us its true because if it wasn't for Andy getting into difficulties at work we may not have found Jesus.
But who knows? the Lord works in mysterious ways.


Back to Testimony Page

The Church at Gun Hill is an Elim Pentecostal Church
Elim Foursquare Gospel Alliance :: Registered Charity 251549 (England & Wales)